Getting Involved
If you are interested in helping out with the Lando project, then you've come to the right place!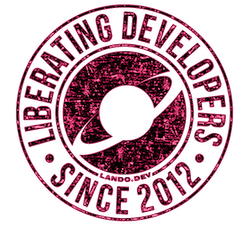 We are looking for people to help out in any of the capacities as follows:
CODER
Work on making and supporting Lando by touching code, docs, issues, DevOps or helping out in our Slack community channel
EVANGELIST
Present, train or speak about Lando at various meetups, camps and conferences and generally spread the good word across the galaxy
SPONSOR
Give the dollars and get exclusive benefits
MAINTAINER
Take ownership over one of our repos
If any of the above sound up your alley, then join us on the comms below and start engaging!
GitHub
GitHub serves as the mechanism for all Lando code, issue reporting/tracking and project management.
While the Lando Organizationopen in new window serves as the starting point for all Lando projects, most collaboration is going to occur in the core Lando Projectopen in new window and its issue queueopen in new window.
Slack
Slack serves as the mechanism for Lando support and contributor coordination. You can join the Lando slack org via LaunchPassopen in new window. By default, you will be added to the #community channel which is our free and open community support channel. You can also join any of the additional channels as is appropriate below:
#administrators - For those who help administer and coordinate Lando
#bloggers - For those contributing case studies, training materials and other content to the blog
#evangelists - For those looking to evangelize Lando at meetups, events, camps, etc
#guiders - For those writing helpful Lando guides and tutorials
#upsellers - For those helping to help sell Lando sponsorships, support and services
#contributors - For those who contribute to the making of Lando
#social - For suggesting social content for Lando
#kalabox - For legacy Kalabox community support
Join some channels and say hi!
Twitter
Twitter is our primary outreach and social channel. If you are fearless, then follow usopen in new window and get involved in the conversation!